Krystal Brock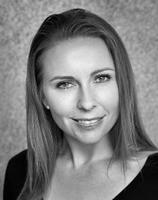 | | |
| --- | --- |
| Age Range: | 31 - 37 years |
| Hair: | Light Blonde |
| Eyes: | Blue/Grey |
| Height: | 167cm |
Personal Description:
Height: 167cm Hair colour: Dark Blonde Eye colour: Blue/Green
Training and Education:
2014 Character Based Improvisation (Mike Leigh) – Robert Marchand and Angela Heesom Casting, SA.
2013 Introduction to Mime – Nola Rae and Teatre Dagen, Lillehammer, Norway.
2012 Sanford Meisner Technique – Anthony Montes and The Miserable Brilliance Ensemble, Los Angeles.
2011 Acting for Screen 1 year conservatory – New York Film Academy, Los Angeles.
2009 Advanced Acting for TVC – Mark Evens and Angela Heesom Casting, SA.
2006-2008 Advanced Diploma of the Arts in Acting – The Adelaide College of the Arts.
2001 10 week Introduction to Acting – Actors INK
1998-2000 Theatre skills and performance – Daisy Brown and Southern Youth Theatre Ensemble.
Film, Television and Web Series:
Short Film:

Role:

Company:

Director:

Ella (Animated Short)
Ella (Voice)
Jess Cahill
Hazelwood
Hazel
Flinders University
Veronica Bulgaria

Grace

Grace

MAPS Film School

Katherine Allen

A Detective Story

Sister

A Poor Daddy Production

Juhi Roddam

The Story of a Driver

Wife

New York Film Academy

Fransisco Bacca

Coffee Break

Sarah

New York Flim Academy

Ed Bottenheim

Birthday Blowout

Annie

New Twilight Productions

Adam Carter

Scene 17

Reporter

University of Adelaide

Jonathan Kovarch

Awakened

Joyce

University of Adelaide

Justin Eckert

Nior

Femme Fatal

New York Film Academy

Ed Bottenheim

Lake Blood Murder

Mayor

Bluetrace Entertainment

Calen Vanstone

Smiley

Party Guest

Michael Gallagher

A Load of Buckshot

Sally

Media Resource Centre

Matt Vesely

Wild Flower

Nurse

Slavic Productions

Vlad Vlad

Television:

Role:

Production:

Director:

Adelaide Casino TVC
Bartender
SA Film Corporation

Deadline Gallipoli

Lady/ Australian Nurse

South Australian Film Corp.

Michael Rymer

So You Think You Can Parent (Mock TVC)

Bogan

The Pitch- Gruin Transfer

Fnucky Advertising

Web series:

Role:

Production:

Director:

The Golden Phung

Pozible Campaign

Slave

InAfield Productions

Jason Chong

Conspiracy Theorist

Fembot Beta

My Roommate The…

Byrne Owen

T&B Citizen's Arrest

Mother

Arrogant View

Torthell Robinson

Music Video:

Role:

Production:

Director:

Bop Dee Bay

Stressed Worker

Rivertrack Studios

Merrilyn Air

Over the Rainbow

Def Girl

New York Film Academy

Mario Moreno

These Words

Bubbly Girl

LA Film School

Efrain Mejia
| | | | |
| --- | --- | --- | --- |
| Theatre: | Role: | Production: | Director: |
| The Audition | Stella | Bakehouse Theatre Company | Joh Hartog |
| Reasons To Be Pretty | Carly | Bakehouse Thetare Company | Joh Hartog |
| Antillia | Michaela Hately | Waxing Lyrical Productions | Toby Rice |
| My Evenings with Thomas | Kristin Shepherd | LeCompte Productions | Joseph LeCompte |
| Darkside of the Moon | Bad Seed | The Berubians | Chris Berubian |
| A Mid-Summer Nights Dream | Hippolyta | NYFA Alumni | Louis Fantasia |
| Im-Perfection | Ester | Colourwheel Productions | Lisa Waite |
| Festen | Mette Hansen | Adelaide College of the Arts (AC Arts) | Michael Hill |
| Merry Wives of Windsor | Mistress Ford | AC Arts | Peter Dunn |
| City of Angels | Angel City Quartet | AC Arts | David Mealor |
Other:
Technique: Leigh, Meisner, Stanislavsky, Laban, Improvisation, and Lecoq. Dance and movement: Suzki, Buto, Viewpoints. Accents: Australian RP to Occa, Midwest American, Californian, New York, British RP, cockney, Irish and Welsh. Arts: Drawing (illustration, cartoon and still-life) stills photography. Fight choreography. All Sports: (good ball co-ordination), swimming, cycling, snowboarding, kick boxing. L.O.T.E: Norwegian.